Day of Silence Set for April 27th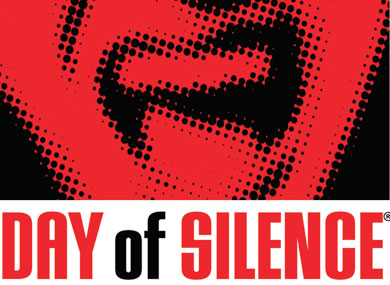 Friday, April 27th is national day of silence created by GLSEN, the leading education organization on ensuring safe and inclusive schools for all students. Day of silence is a student-led national event where people take a vow of silence and don't talk for a day to highlight the silencing and suppressing of LGBTQ people at school as well as demanding schools to take action to be more inclusive.
Nearly 4 in 5 LGBTQ+ students don't see positive representation in their curriculum, and nearly 9 in 10 experience verbal harassment  according to studies by GLSEN. "The whole idea of it is that LGBTQ+ people have experienced silence via bullying or abuse or just a general stigma at a much higher rate than other students. So on this day we think about silence and take a moment to reflect on how that has affected yourself or other LGBTQ+ people. It's also more to make a visual point to to others who don't know this occurs," informs leader of spectrums club Maddie Sandish. "There's always the question of why do you remain silent when you should be speaking up? And the thing is entirely about the visual. We're being silent because people in the LGBTQ+ community have to experience the silence all the time," offers leader of spectrums Noah Harstad. The Day of Silence is meant to make an impact on the conditions of schools as well as to raise awareness about the community.
"
The best way to be an advocate is to educate yourself. You can't do anything if you don't know what you're talking about."
— Noah Harstad
Although there are challenges to participating in the day of silence, the outcome pays off greatly. "It's difficult when people start making comments where they know you can't stand up for it because you're being quiet, but I've done it for a couple of years and it's really a great opportunity for me to reflect on why I continue to speak out and try to be an activist for the community. It's also a really interesting opportunity when you stop preparing yourself to speak and just sit and listen and find out the things that you can hear around the school," Sandish recalls.
If you plan on participating in the Day of Silence there are ways to get involved. "The plan is to have the vow of silence, and have people come during PAWS to the wildcat bay or the tables in front of the attendance office, which you have permission to do, and gather and reflect on why we're being silent. We'll have sheets of paper that will say "End the silence about…" And people have the opportunity to write down an issue they'd like to end the silence about we can post them around the school and include them on our new Spectrums website," explains Sandish.
If you decide not to participate, be respectful of all students who are and be aware of all the other things you can do to help the community. "You don't have to be a big and bold advocate, small acts are always super appreciated. I always tell people, The best way to be an advocate is to educate yourself. You can't do anything if you don't know what you're talking about," Harstad points out.  "When you make the effort to do it, you feel something different at the end of the day. We tend to spend the other 364 days of the year speaking out. Making a point on one day to not say anything shows we're making a wave somehow, it may not be the biggest one but it's there," declares Sandish.