Girls' CC Finishes Strong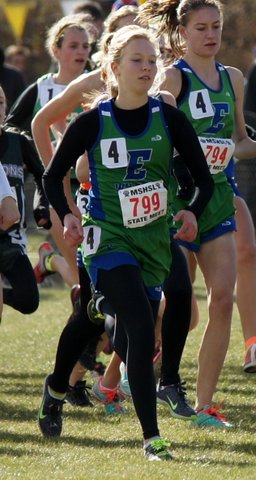 Last Saturday, the Girls' Cross Country team ended its season with a stellar performance at the State meet, held at St. Olaf college in Northfield, in which seven members of the team carried the Wildcats to an 8th place finish. The team worked hard all season to become section champions, something that head coach Mrs.Langenhahn stated as being "one of our goals every year", and by doing so, they were granted a birth in the State meet.
Success has become the expectation for the Girls' CC team at Eagan and Coach Langenhahn makes sure that the members are aware of it. "We want to put runners in the State meet every year, if possible" proclaimed the head coach when asked of their season's goals.
It was the fourth season in a row that the Girls' team had been section champions. Langenhahn reflected on the season and expressed that she was pleased with the team's results. When asked about what some of the contributing factors were to their successful season, the coach gave the senior runners high praise, saying that this year's seniors "led the team and were a great foundation for our success."
Junior runner Katie Koprowski, who ran in the State meet along with her teammates, also gave a lot of credit to the seniors this year. "All of the seniors on the team were equally amazing" she said when asked about which runners had a large impact on the team.
[slideshow_deploy id='1803′]
Though the seniors were a large part of the girls' success this year, Girls' Cross Country will likely be solid next year as well. "We should have a really great year next year as a team as well," Koprowski went on to say. Of the seven Eagan runners who ran in the State meet, three were not seniors. Among them were two eleventh graders and one ninth grader, Abby Barger, so it's safe to say that the Girls' Cross Country team has a promising future ahead of it.